Born on December 3, 1948, John Michael Ozzy Osbourne is an English singer, songwriter, and television personality who gained fame in the 1970s as the lead vocalist of the heavy metal band Black Sabbath. It was during this time that he earned the moniker Prince of Darkness.
Early life
John Michael "Ozzy" Osbourne was born in Marston Green Maternity Hospital near Coleshill and raised in the Aston area of Birmingham. His mother, Lilian, worked at a Lucas factory while his father, John Thomas "Jack" Osbourne, worked night shifts at the General Electric Company as a toolmaker.
Ozzy grew up with three older sisters and two younger brothers in a small two-bedroom home on Lodge Road in Aston. He acquired the nickname "Ozzy" during his primary school years and dealt with dyslexia and bullying.
Ozzy attempted suicide multiple times during his teenage years and left school at 15 to work a variety of jobs, including construction site laborer, trainee plumber, apprentice toolmaker, car factory horn-tuner, and abattoir worker.
Despite his challenging upbringing, Ozzy was drawn to the stage and participated in school plays like Gilbert and Sullivan's The Mikado and HMS Pinafore. He credits the Beatles' song "She Loves You" for inspiring him to pursue a career in music.
Ozzy's passion for music led him to become the lead vocalist of the heavy metal band Black Sabbath, where he gained fame in the 1970s and earned the moniker "Prince of Darkness." In the 2011 documentary God Bless Ozzy Osbourne, he declared that he knew he was going to be a rock star for the rest of his life.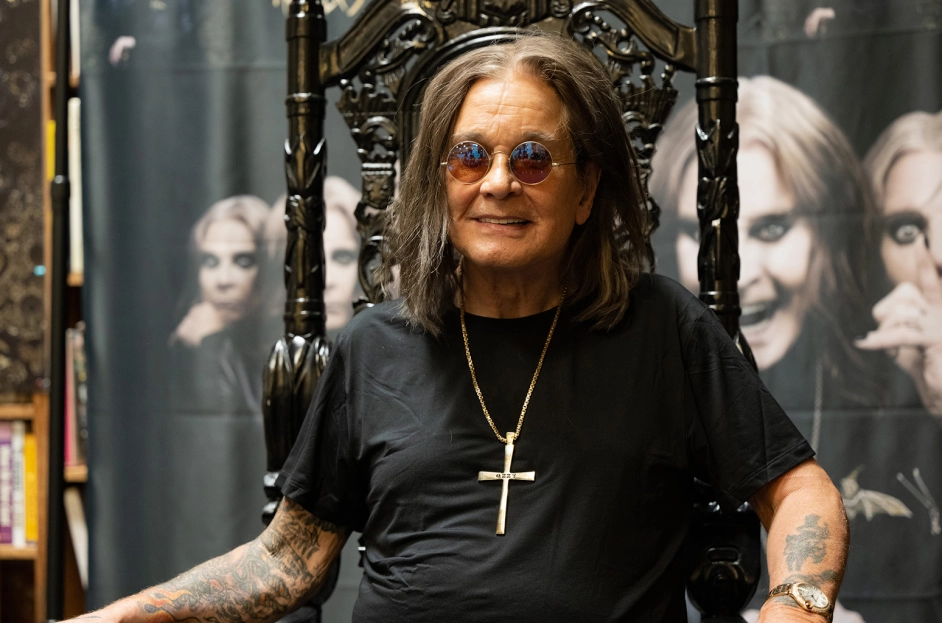 Early Career
During the late 1960s, John Michael "Ozzy" Osbourne began his music career as the vocalist for a band called Rare Breed, formed by bassist Geezer Butler. Although the band only played two shows before breaking up, Osbourne and Butler reunited in a new band called Polka Tulk Blues, which included guitarist Tony Iommi and drummer Bill Ward.
The band eventually settled on the name Black Sabbath and became known for their heavy blues style of music with gloomy sounds and lyrics, inspired by the horror film of the same name.
Black Sabbath's debut album, Black Sabbath, and their second album, Paranoid, achieved immense commercial success, selling millions of copies and receiving significant airplay.
During this time, Osbourne met his future wife, Sharon Arden, who worked as a receptionist for her father, Don Arden, the band's potential new manager. The band released their third album, Master of Reality, which reached the top ten in the US and UK and received gold certification within two months of its release.
Despite unfavorable reviews, the album went on to receive platinum and double platinum certification in later years.
Black Sabbath's fourth album, Volume 4, was released in 1972 and again received dismissive reviews but achieved gold status in less than a month and sold over one million copies in the US, making it the band's fourth consecutive release to do so.
Career Achievement
Here are some of the highlights of his career achievement With Black Sabbath Osbourne released several classic albums including Black Sabbath (1970) Paranoid (1970) Master of Reality and Sabbath Bloody Sabbath (1973).
Osbourne also had a successful solo career releasing hit albums such as Blizzard of Ozz (1980), Diary of a Madman (1981), and No More Tears (1991). He is widely regarded as one of the pioneers of heavy metal music and has been credited with influencing countless musicians in the genre.
In 2006 Osbourne was inducted into the UK Music Hall of Fame as a member of Black Sabbath. In 2009 he was inducted into the Rock and Roll Hall of Fame as a member of Black Sabbath. Osbourne has won three Grammy Awards, including one for the song I Don't Want to Change the World in 1994.
He has also won several other awards, including an MTV Europe Music Award and a Kerrang! Icon Award, and a Global Icon Award at the 2014 MTV Europe Music Awards.
In addition to his music career, Osbourne has appeared on several television shows, including The Osbournes (2002-2005) which won an Emmy Award for Outstanding Reality Program in 2002.
Check out more of Your favorite celebrities' bio's, careers, and Net worth on Synctobest.
He has also authored several books including his autobiography I Am Ozzy (2010) which became a New York Times bestseller.
Ozzy Osbourne Net worth
Ozzy Osbourne is a renowned English singer, songwriter, actor, and television personality who has amassed a substantial fortune with a net worth of $220 million.
He rose to fame as the frontman of the influential heavy metal band Black Sabbath and later achieved significant success as a solo artist. Ozzy's enduring career has made him a rock icon and earned him a place in the Rock and Roll Hall of Fame.
Alongside his career accomplishments, Ozzy's net worth is also combined with his wife of many years, the successful television personality and music manager Sharon Osbourne.