Ralph Hubert Barger Jr., known as Sonny Barger, was born on October 8, 1938, in Modesto, California, to Robert Hubert Barger and Kathryn Carmella.
Ralph Hubert, better known as Sonny Barger is a multi-talented American outlaw biker, actor, and author. He was one of the founding members of the Oakland California chapter of the notorious Hells Angels Motorcycle Club (HAMC), a worldwide one-percenter motorcycle club.
Barger has made several on-screen appearances, including in the films Hells Angels on Wheels, Hells Angels 10, and the documentary Gimme Shelter, as well as the television series Sons of Anarchy.
Additionally, he has made a name for himself as an author with books such as Hell's Angel The Life and Times of Sonny Barger, Let's Ride: Sonny Barger's Guide to Motorcycling, Freedom: Credos from the Road, and Dead in 5 Heartbeats, and as an editor with the book Ridin' High, Livin' Free: Hell-Raising Motorcycle Stories.
Despite his fame, Barger is also known for his criminal past. He is a convicted felon who spent four years in federal prison for conspiring to blow up a clubhouse of a rival motorcycle club.
As a result of his conviction, he has lost his right to vote and own a gun. Despite this, Barger remains a legendary figure among outlaw bikers worldwide.
Early life
While Barger has not revealed much about his personal life, sources suggest that his father struggled with alcoholism, and his mother abandoned the family, leaving him and his older sister with their father when Barger was just four months old.
Barger's rebellious streak was evident from a young age, and he often got into fights with other boys and even assaulted teachers, leading to his suspension from school multiple times.
Despite losing interest in formal education, he found solace in reading and working at a local grocery store.
While attending high school in Oakland in 1954, Barger formed the Earth Angels, a small street corner club. He later joined the army in 1955, but after 14 months, he was discharged when it was discovered that he had forged his birth certificate to join the army.
After leaving the army, Barger held various odd jobs before eventually becoming a member of a motorcycle club.
Early Career
In 1956, Barger joined the Oakland Panthers, his first motorcycle club. The following year, he and his friends formed the Oakland chapter of the Hells Angels Motorcycle Club (HAMC), a worldwide one-percenter club. Barger led the Oakland charter and introduced the "Borger
Larger" patch, a larger version of the club's famous "Death's Head" patch. This new patch became the club's standard.
Barger gained prominence in American journalist and author Hunter S. Thompson's 1967 book Hell's Angels: The Strange and Terrible Saga of the Outlaw Motorcycle Gangs, where he was featured prominently.
Thompson spent a year living and riding with the Hells Angels to gain firsthand experience and insight for his book.
Barger also made a brief appearance in the 1967 biker film Hells Angels on Wheels, directed by Richard Rush and starring Adam Roarke, Jack Nicholson, and Sabrina Scharf. He served as a consultant for the film and was credited accordingly.
Barger and the Hells Angels were also mentioned in Tom Wolfe's 1968 nonfiction book The Electric Kool-Aid Acid Test, which chronicled the experiences of Ken Kesey and his followers, the Merry Pranksters. The following year, Barger was featured in the outlaw biker film Hell's Angels '69.
Barger and other members of the Hells Angels were present at the infamous Altamont concert, a counterculture rock concert held in 1969, where a fan was killed by a Hells Angel.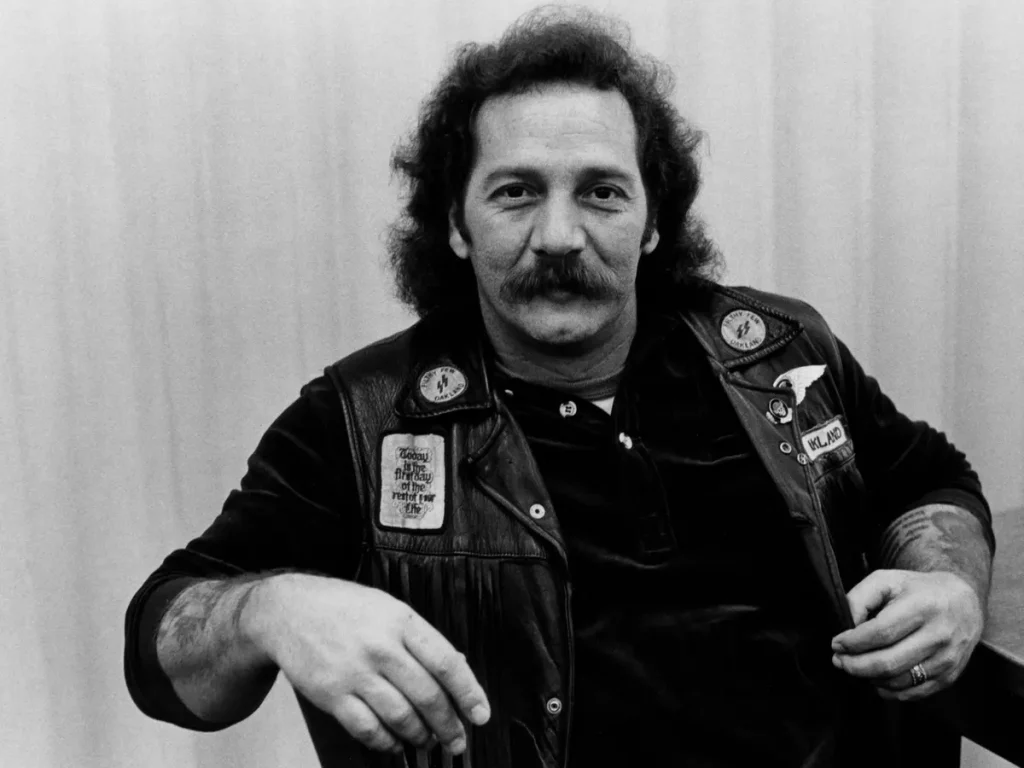 Career Achievement
In recent years, Sonny Barger has become an advocate for motorcycle safety and has co-authored the book "Let's Ride: Sonny Barger's Guide to Motorcycling" with Darwin Holmstrom, which was originally published on June 8, 2010.
He has also written and published four other books, including "Hell's Angel: The Life and Times of Sonny Barger and the Hell's Angels Motorcycle Club" in 2000, "Dead in 5 Heartbeats" in 2004, "Freedom Credos from the Road" in 2005, and "6 Chambers, 1 Bullet" in 2006. Additionally, Barger has edited the 2003 book "Ridin' High, Livin' Free: Hell-Raising Motorcycle Stories."
Barger also made guest appearances in the FX aired American action crime drama television series "Sons of Anarchy." He portrayed the character Lenny "The Pimp" Janowitz in the thirteenth and final episode of Season 3 on November 30, 2010.
The show revolved around the fictional close-knit outlaw motorcycle club based in Charming, California, allegedly inspired by the Hells Angels. Kurt Sutter, the creator of the show, conducted research for it, which included spending time with Barger and other members of Hells Angels.
Barger and Sutter even shared screen space in the episode. He again featured in his guest role during the Season 4 finale, Part One, titled "To Be, Act 1," which aired on November 29, 2011, and in the tenth episode of Season 5, titled "Crucifixed," which aired on November 13, 2012.
Sonny Barger Net worth
Sonny Barger was a prominent figure in American culture known for his involvement in the Hells Angels motorcycle club as well as his career as an author and actor.
Barger's net worth was estimated to be around $500,000.
| | |
| --- | --- |
| Name | Sonny Barger |
| Born | October 8, 1938 |
| Net Worth | $500,000 |
| Profession | American outlaw biker, actor, and author |
| From | Modesto, California |