Anthony Anderson is a versatile American actor, comedian, and game show host who was born on August 15, 1970. He has made a name for himself in both comedy and drama playing lead roles in popular series such as Black-ish K-Ville, Law & Order, and Guys with Kids.
Anderson has also appeared in several major feature films including Me Myself & Irene, Kangaroo Jack Agent Cody Banks 2 Destination London, The Departed Transformers, and Scream 4.
Early life
Anthony Anderson was born in Compton, California, to Doris (née Hancox) and Sterling Bowman. Doris was a telephone operator and actress, while Sterling moved to Los Angeles from Little Rock, Arkansas, to work in the steel mill industry before opening a chain of clothing stores.
Anthony has a half-brother named Derrick Bowman, and his stepfather passed away in 2002. Growing up, Anderson was called "Tugga" because he couldn't pronounce "sugar." According to a DNA analysis, he has ancestry from the Bubi people of Bioko Island (Equatorial Guinea), as well as the Tikar, Hausa, and Fulani people of Cameroon.
Although his first attempt at stand-up comedy was unsuccessful, Anderson met fellow comedic actor Guy Torry, who encouraged him to keep trying. They later acted together in the Eddie Murphy film Life.
Anderson attended Hollywood High School Performing Arts Magnet and graduated from Howard University in 2022 with a Bachelor of Fine Arts degree.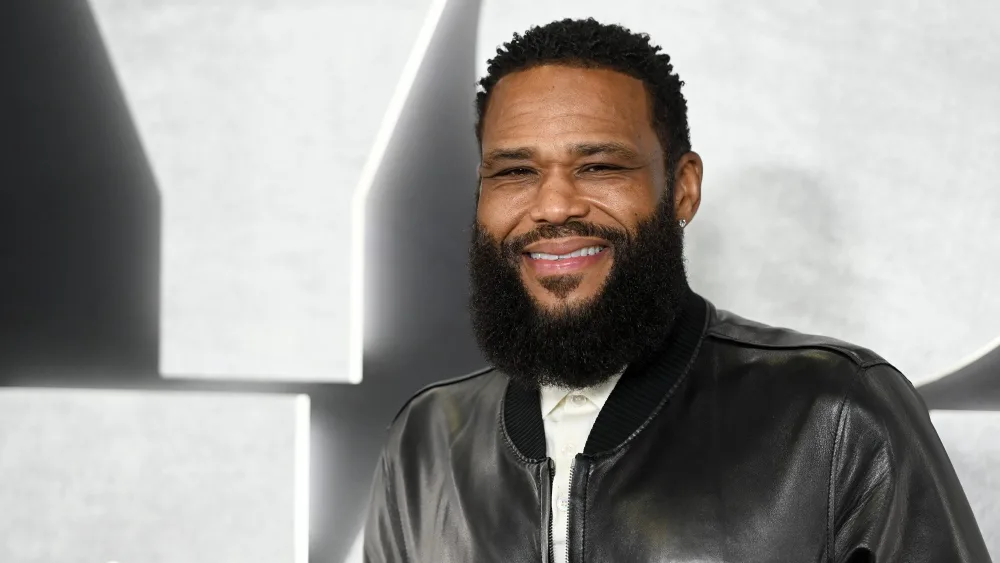 Early Career
In the early stages of his career, Anthony Anderson appeared in various TV shows and films. He played Teddy Broadis in the teen series Hang Time and had guest roles in popular shows such as NYPD Blue, Malcolm & Eddie, In the House, and Ally McBeal.
He also had recurring roles on series like 'Til Death and The Bernie Mac Show. In 2002, he starred in the short-lived series All About the Andersons and later appeared in crime dramas K-Ville and The Shield.
Anderson's hosting gigs include Eating America with Anthony Anderson, a summer show in 2014 where he visited different towns in America hosting food festivals highlighting specific types of food.
He was also a frequent judge on Iron Chef America and served as bartender/sous-chef for Iron Chef Bobby Flay opposite Masaharu Morimoto and fellow judge Simon Majumdar in the Ultimate Bar Food battle. In 2013, he signed on to host the celebrity-driven, family game show called Wall of Fame, which never aired.
Since 2014, Anderson has starred as Andre "Dre" Johnson on the ABC sitcom Black-ish, which completed its eight-season run in 2022. During the show's run, he received several Primetime Emmy Award and Golden Globe Award nominations.
He is also the executive producer of its spinoffs Grown-ish and Mixed-ish and plays Dre in episodes of both series. Since 2016, he has hosted, To Tell the Truth on ABC.
Career Achievement
Throughout his career, Anthony Anderson has achieved several notable accomplishments. He has been nominated for numerous awards and has won several including two NAACP Image Awards a BET Comedy Award and a Daytime Emmy Award for his work as a host on the game show To Tell the Truth.
One of Anderson's most significant achievements is his role as Andre Dre Johnson on the ABC sitcom Black-ish which he starred from 2014 to 2022. During his time on the show, he received multiple Emmy and Golden Globe nominations for his performance showcasing his exceptional talent as an actor.
Anderson has also made a name for himself as a television host, serving as a frequent judge on Iron Chef America and hosting shows such as Eating America with Anthony Anderson Wall of Fame, and To Tell the Truth.
He has proven his versatility as an entertainer excelling in both comedic and dramatic roles, as well as in hosting and producing.
Check out more of Your favorite celebrities' bio's, careers, and Net worth on Synctobest.
In addition to his work in entertainment Anderson has been recognized for his philanthropic efforts, supporting causes such as cancer research education, and feeding the hungry. He has received the Humane Society of the United States Animal Protection Hero Award and has been named a champion of the No Kid Hungry campaign.
Anthony Anderson's Net Worth
Anthony Anderson, an accomplished American actor, and writer have accumulated a net worth of $25 million through his various endeavors. He earns a substantial annual income of almost $9 million, largely attributed to his role in the hit comedy series Black-ish.
As a producer and actor, Anderson commands a sizable salary and also benefits from a share in the show's back-end profits.